By joining the association:
You will have your personal card offering discounts and benefits from our local and international partners who already trust us: (Click here to find out the details of all the offers of each partner)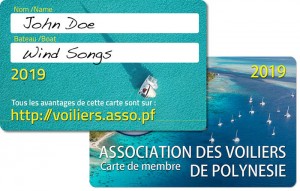 We are currently negotiating with many other local partners, we will be able to present them to you very soon!
You are a member of the association and you think your company can become a partner? Let us know! avp.tahiti@gmail.com
Would you like to see yourself on our website? Become one of our preferred partners and capture the attention of our members.
Or get your card back?
By visiting one of our representatives:
TAHITI: Tahiti Yacht Accessory at Taina Marina (Michel Baltzer)
MOOREA: Marina de Vaiare (Voilier Fetia Nui with Aurora)
HIVA OA: Maintenance Marquises Service (Shipyard)
FAKARAVA: Fakarava Yacht Services (with Stephanie in the village)
FAKARAVA: Pakokota Yacht Services (Pension Pakokota)
Or with the members of the office on Tahiti:
ARUE MARINA: AlibabA Sailboat (Arnaud JORDAN)
PAPEETE MARINA: Catamaran SURICAT (Eric PINEL)
MARINA TAINA: FreeVOL Sailboat (ReHEL)
MARINA TAINA: Sailboat TOA NUI (Florent GACHOD).