Dear boaters, dear boaters,
The Association of Sailors in Polynesia has made it its mission to be the unavoidable and representative interlocutor of boaters, whether they are from here or passing through the decision-makers, political representatives who have not not often a good image of boating. That's why you joined us. We are working to increase contacts but also to ensure that the image of boating is better perceived and accepted by the inhabitants. Finally, we are all sensitive to the marine environment, an axis of communication that I am keen to focus on.
You will find in this long letter the links on our current actions as well as the spirit in which we would like to work together so that boating is a leisure and perhaps even a way of living in harmony with the inhabitants of the islands in a preserved environment.
We want managers to have a better understanding of the specific issues of boating. Perhaps we need to repeat that from Tahiti, we need half a day to get to Moorea, a whole day (yes, 24 hours) to go to the Leeward Islands, sometimes double to get back. We travel the pacific at the speed of a runner. And not Usan Bolt, take an average runner instead. During this time, we sleep little, may have difficulty feeding ourselves and ensure a night and day watch. In short, stopovers are essential to our safety, if not to our well-being. That we are then confined to the bottom of the bays for the wrong reasons and for the benefit of other tourist activities seems extremely unfair to us because we are all in love with our environment. We use the wind to move and not non-renewable energy, we are dependent on weather conditions as a result the mooring time limits seem difficult to apply.
That's why the revision of Moorea's Maritime Space Management Plan (MMIS) is one of our major projects. In short, we want to keep the possibility of getting wet wherever it is not prohibited.
The reasons are diverse, transportation safety is one of them and you can help draft the many other reasons we will add to the public utility survey that the Municipality of Moorea is expected to launch soon. For it is the very practice of boating that is in danger, nothing less. If all the islands follow suit on these kinds of decisions, we will spend more time booking buoys at the bottom of the bay than enjoying pleasant moorings. What's the point of having a sailboat in these conditions...  On the contrary, we are convinced that boating is a reservoir of jobs and that its environmental impact is very bearable. It is this message that we would like to deliver to Tavana Franck TAPUTUARAI and Hereiti ARAPARI of the Moorea Town Hall who will present the PGEM project on Saturday 16 June 2018 at 9:00, in the gardens of the Assembly of French Polynesia.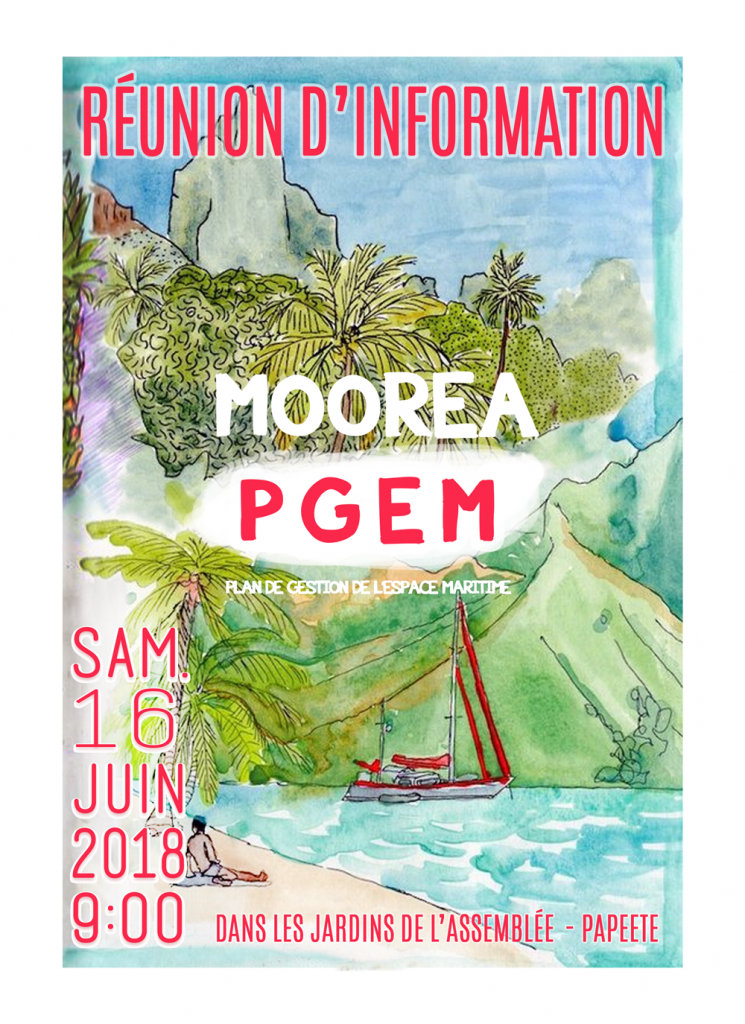 Of course, we also have to be blameless. And we're going to have to sweep in front of our door a little bit. We will have to make our own the slogan "Nothing overboard, all my waste in the port!" and act so that the ports are able to receive our garbage, sorted. How sad to see, and this is just one example among others, the perfectly sorted garbage cans of three boats of the Tahiti Pearl Regatta (glass, plastics/aluminium, household waste) end up in approximate containers, abandoned in the city center ... Our black water stakes must be collected or discharged offshore, the lagoon must be preserved and protected. Anchors must be done on sandy bottoms...  It is with this in mind and to spread this message that we will participate in World Oceans Day on June 9, the underwater clean-up action of the Yacht Club of Tahiti on June 24th...
We defend boaters, those who sail with a boat in good condition, manoeuvring, whether at port or at anchor. We identify garbage boats, shipwrecks, and sucker boats because we consider that a pleasure boat is not a house but a means of habitable transport and in this sense must be able to sail! Alerted by the practice of airbnb on boats, we are not opposed because it is not illegal but we condemn the use of boats anchored almost permanently to do so, especially in Moorea, because they are at odds with the current PGEM.
We are respectful of the law and the administrative, safety and environmental protection rules but also intend to enforce our rights. It is not normal, as we are seeing more and more, to be assaulted by local residents who overstep their rights and police themselves. But it is by being particularly blameless on the local orders, customs and practices that we will arrive, I am sure to sail peacefully, respecting the environment and the inhabitants of the islands.
The members of our association that you are want nothing more than to maintain the link between boaters, environment and people.
Arnaud JORDAN, President of the Association of Sailors in Polynesia
PS You will soon receive a login and a personal password to access the back office of our website: https://voiliers.asso.pf. This access will allow us, if necessary, to reserve parts of the site for our members and will allow you to participate in the writing of articles. The site is in perpetual manufacture. Get involved, editor become a collaborator. Use our tools and develop shipwreck censuses, mooring information. Don't hesitate to ask to be published. The quality of our information depends on the network we set up. You can also comment on each article, the editors have an opinion, you have yours, our position arises from the debate. And if you don't know how to do it, or if your connection is too calamitous, send a simple email...
Thank you for your trust. Don't forget to get people around you.