Dark clouds accumulate above the heights, then the wind intensifies the clouds move over us; it is the sign of a grain, time to close the windows, and to tuck in the linen and here the rain falls, drue, big, crackling, abundant.
The good sailor is always attentive to the signs of the weather.
The rain does not last but fills the buckets and the waste pickers with water in order to feed the tanks and on land to feed the greedy vegetation. Rain is a blessing.
It is then that the rain has stopped, that the show begins, with each downpour the scenario is the same, desolate. It is the dance of plastic accumulated in weirs, in gutters, anywhere and which pushed by wind and rain comes to accumulate in the waters of the lagoon. It's first a few bottles, then more and more and soon everything that happens to float, papers, bags, boxes of fruit juice, diapers panties ... all this is carried away by the current and heads to the reef to begin a more or less long journey into the beautiful ocean.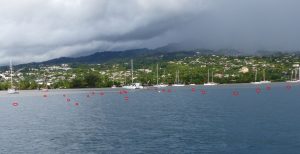 The hands of men and women have manufactured this pollution and no one seems able to stop or contain it. Everywhere, on all beaches, all the islands, all the coasts of the whole world the same plague is spreading.
The bravest and also the most desperate collect, sort, cram, collect, recover this plague hoping for an uncertain recycling. Too many different plastics, too many materials, too many incompatible molecules, too many soiled plastics, recycling solutions are almost inoperative.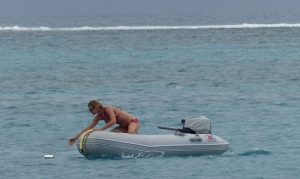 Utopia to find an unstained planet, our children have not known the walking paths, picnic places, parks and gardens, beaches, hiking trails, shores without greasy papers, without plastic waste and probably do not will never know.
As long as we let the industrialists make non-recyclable containers, as long as the laws do not prohibit the marketing of these products, the world will be invaded by this.
Yet the discourse sities are always the same: guilty, it is the users who are the culprits, it is up to them to be careful, to sort, to consume differently, to strive to produce zero waste, to recycle, to find solutions, to pick up, collect, clean, etc... but during this time the industrialists continue to gorge, to produce more and more, not to take charge of the end of the life of their products. They are the ones who are at the root of all this pollution, the manufacturers of plastic bags, plastic glasses, forks, spoons, straws, toothbrushes, often useless packaging of all kinds.
While waiting for this blessed day when politicians will take their responsibilities in this area, indeed we must each at our level try to make a gesture, no matter how small, for the planet.
R2