[WARNING: the term "locals" used here means "inhabitants of Polynesia," whether Polynesian, French or of any other origin]
The quotes in quotation marks in this post were taken from this article in La Relève and La Peste, published on August 5, 2021.
Gilles Favarel-Garrigues and Laurent Gayer, two researchers from the CNRS, have published an investigation on "self-proclaimed vigilantes". They even published a book, in the form of an essay, in May 2021: Fiers de punir - Le monde des justiciers hors-la-loi.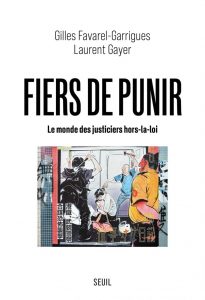 In view of the various articles and analyses in this essay, it appears, unfortunately, a flagrant similarity with what can happen concerning yachting in French Polynesia.
Indeed, in view of the numerous incidents or "clashes" involving sailboats and locals (notably on Raiatea, again very recently, Haapiti, Huahine or at the airport anchorage), one notices "a growing craze for vigilantism, that is to say, for the use of extra-legal methods, on the part of ordinary citizens, in order to maintain order or to render justice by themselves, in response to a presumed failure of the police and judicial apparatus.
That there is a concern or rather vagueness (legal, legislative, or otherwise) regarding yachting in French Polynesia, no one seems to deny. It seems necessary to clarify all this very quickly.
For several years now, these people, organized in groups or even in associations, seem to have grown in size. "Exasperated by the alleged laxity of the courts, the self-proclaimed vigilantes strive to punish the so-called troublemakers by themselves. Breaking the law to maintain order, they improvise themselves as detectives, judges and executioners. Adept at lynching and other spectacular punishments, they find a new audience on social networks. [The development of these new information and communication technologies increases the risk of self-justice by raising intense emotions, spreading anxiety-provoking rumors and increasing the temptation to play detective, alone or in a group, with all the risks of blunder that this entails.
Just look at the high level of diatribe that is often spilled on social networks regarding boaters. For example, during the explosion of a sailboat in Huahine last June, very high local philosophers of the "fessebouquienne" thinking reacted on the spot and even went so far as to hope that there would be deaths! ... even before knowing that there had indeed been one.
Through the use of these networks in particular, these so-called righters of wrongs "address themselves to a public, taken to task, from which they expect the validation of their controversial actions". It is even possible to envisage that "these vigilantes seek the approval, at least tacit, of official authorities."
Obviously, even if the levels of "vigilantism" reached here in French Polynesia have absolutely nothing to do in intensity with those described in the book (in Russia, Nigeria, India, ...), the growth of this practice is still cause for concern and especially for question.
In July 2019, in Raiatea towards Miri Miri, boaters were clearly verbally assaulted and the act of these "local sheriffs" were not far away in view of the material brought for the "discussion": monseigneur clip and hunting knife.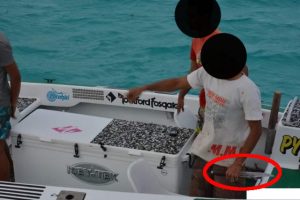 At the end of July 2021, some Anglo-Saxon nationals anchored their sailboat in Raiatea. Here is their testimony: "Today, we dropped anchor in a bay west of Raiatea to visit a local restaurant for lunch. Since there was no mooring, we anchored in deep water, well away from the reef. When we returned about two and a half hours later, one of our lines had been cut. It was part of the apparatus for lifting the dinghy. A local boat approached and a young man told us that this was a private bay and we could not anchor. He denied any knowledge of the cut line."
Two weeks later here is what this same person relates about his visit to the gendarmerie in Uturoa:
"Today I went to the Gendarmerie Nationale in Uturoa, Raiatea, to report last week's incident. I had in my possession my story translated into French. The female officer told me that I had to pay a fee to anchor and that it was a private bay (Baie Pufau). I was surprised and said that we were not aware of this fee and that I had never heard that from anyone else. She spoke little English and her superior came out. He spoke better English and said there was a tax. He said the national government should tell the cruise lines. He said we could only anchor for two nights anywhere. I asked what was going to be done about the damage and reluctantly the young officer wrote up an account that only vaguely resembled mine. I was directed to the DPAM, presumably to pay the costs. I felt like the criminal.
At DPAM, a very nice lady told me that there was no fee, but that we could only anchor for two nights anywhere in the lagoon. She said that Pufau Bay is not private but it is a very bad place!
There is nothing more I can do. We both feel unwelcome and distressed."
A private bay??? ... and to think that boaters are accused of "illegal occupation of public property". What about this ILLEGAL APPROPRIATION of the public domain! And strangely, the "we" there does nothing! It seems that these self-proclaimed vigilantes can act with impunity ... in any case, in view of the resurgence of this type of act, it raises questions.
What can we say about the way boaters are received in some police stations which, obviously, do not have the right information. Let's not dare to imagine that they are unwilling to do so. Here again, this raises questions.
It is essential to avoid the establishment of a "lagoon Wild West". On the whole, boaters are understanding and ready to respect the rules, but they must be explicit, respectful and even agreed upon.
To illustrate these remarks with a simple example, here are excerpts from an article published in the Dépêche de Tahiti, on April 22, 2021
"Last weekend, our clients were attacked. Three weeks ago, a sailor who had taken his dinghy to go shopping on the island had his zodiac cut to pieces by a guy on a jet ski who came from the dock to the boat to vandalize it. A month ago, it was a septuagenarian who had his face smashed. In February, it was my skipper who was verbally assaulted, then physically, in front of her customers, by a resident who did not want her to take water ... By not doing anything, there will be a real drama, for sure, "says the manager.
"When the skipper filed a complaint with the police after her attack, the police, who had found the assailant and handcuffed him to hear him, released him while the skipper was still telling the facts. And it was the same person who sabotaged the zodiac. On Huahine everyone knows who knows, the authorities too, but we let it happen. It's normal to be beaten up, to have your equipment broken".
And unfortunately, this does not only concern the yachting industry:
- around 2010, knocked down on an ATV by a car and then assaulted with a hammer) at the end of the ferry in Tahiti (Papenoo→Mataia) for passing under the chain on the "normal" road ;
- more recently, in this case, the victims - a couple with a building permit - want to be able to continue the construction of their fare without hindrance. According to the couple's lawyer, "They are being barred from the road in a totally abusive manner! One does not take justice into one's own hands". As for the local residents, they believe that the couple, by their haste to carry out the work, would have disregarded their rights."
the little hummingbird of theAVP