My heart is bruised today, because the sounds of pontoons report that The island of Moorea is currently being flown over by an ominous bird. Yes, my friends, there is a bad omen in our sky that jeopardizes the respect of our freedom for all.
So a little light in my heart tells me that you have to react and sound an alarm to avoid a huge mistake. My only weapons: my excessive love for the ocean on which I have lived for fifteen years, and my pen, which I hope to handle with enough sincerity to explain to you who are these people who go to the sea and who are now accused of polluting or destroying the lagoons , and to which we want to ban moorings around the island of Moorea.
Whether we are earthlings, sailors, air, or in between, we are all concerned.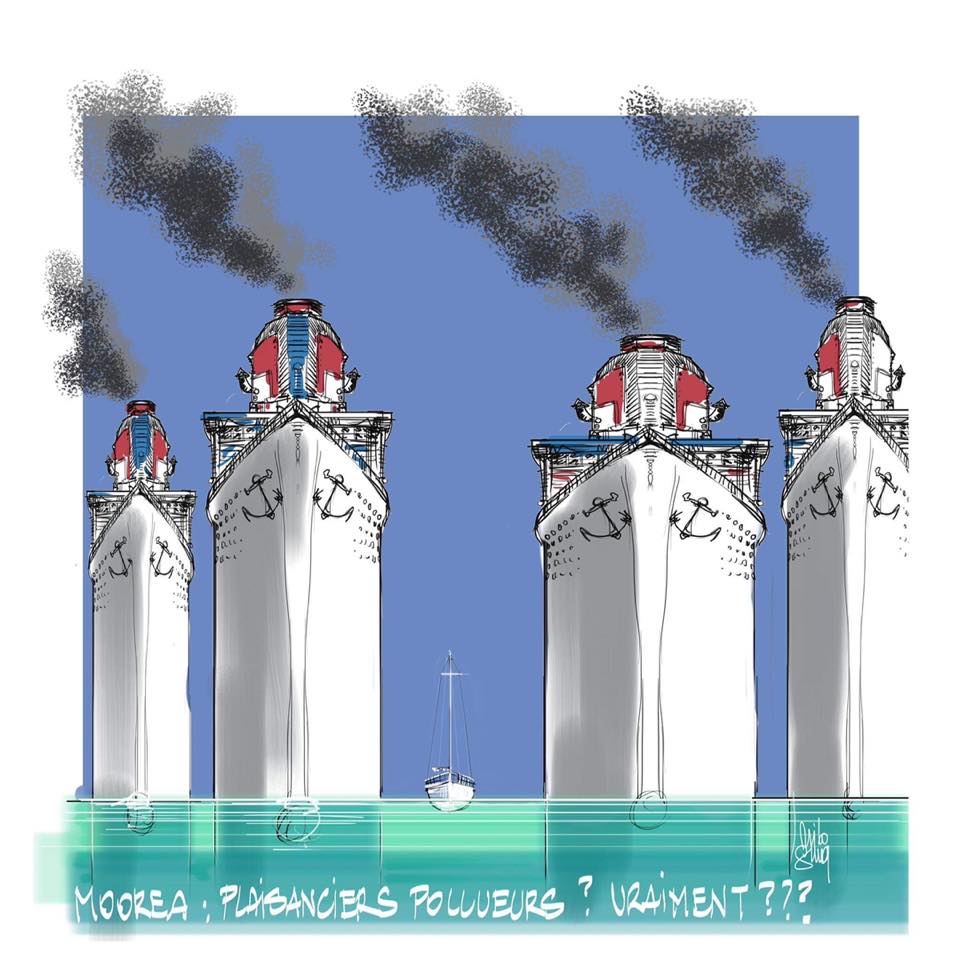 Everyone knows that our planet is not just sick, it is in agony. Global warming, air pollution, destruction of the ozone layer, deforestation, intensive fishing and non-compliance with the ocean with its disastrous consequences. The latest: the discovery of a continent of plastic residues in the middle of the oceans! The truth is that we are all directly responsible. How many plates, plastic cutlery, bottles and other waste end up in our lagoons, drained by the current in the passes? Of course we don't care, since it goes offshore. How many of us bathe after putting on sunscreen that ignores the disastrous effects on our corals? How many poorly regulated cars pollute the skies of our Polynesia every day without any real concern because the wind of the Alizés takes care of taking the gas elsewhere. How many seaside houses do not yet have septic tanks and dump their in our turquoise waters in the greatest carelessness because in any way, there is the current. How many hotels evacuate their sewers by pipelines offshore, how many big cruise ships come to anchor in our bays with the pollution they cause! And today they want to make us believe that we should ban sailboats from anchoring our lagoons because they pollute? How, for example, can we prohibit the sailboats from anchoring Maharepa and at the same time allow large cruise ships to anchor in Cook Bay when we know that only one of these vessels can emit as many fine particles as a million cars!
Aren't the elected officials behind this initiative mistaken in making sailboats their scapegoat?
Because I know them well, I know them well because I am part of it myself. Sailboats are one of the cleanest and most environmentally friendly modes of locomotion because a sailboat by definition moves with the wind and uses its engine only to make its last manoeuvre at anchor. It produces its energy through the sun and not by using a thermal power plant, because we are mostly equipped with solar panels. We produce our fresh water from the sea thanks to the desanilizer or collect rainwater. Contrary to what can be said, we are the first to preserve corals because we always choose sand bottoms to anchor, because they offer the best hold and we are safe there. Similarly, we are the first to love the ocean and pamper its coral garden, because we are aware of the extraordinary opportunity we have to still be able to swim above with our children. About that. I do not know a sailboat annex that does not stop to retrieve a plastic bottle that floats in its path, and believe me, there are! "Yes, but boaters don't pay taxes and take advantage of our garbage cans to deposit their waste, they are profiteers who live naked on their boats!" How many times have I read this kind of argument on social media? Error, those like me who arrived by sea and settled in Polynesia all paid a substantial tax to Papeetiser their boat. The same is true for those who buy a boat on site, they must pay a property tax (5% of the value of the boat). For the others, those passing through, I agree, and solutions have been presented by the association of boaters in Polynesia, such as the perception of a right of navigation accompanied by a small booklet recalling the rules of good conduct. In response to all these efforts, all these proposals, Moorea's elected representatives simply proposed to ban boaters from mooring without even specifying the reason for such a decision.
So rather than ban, wouldn't it be better to make the effort to get to know us better? Rather than pushing back boaters, wouldn't it be better to draw inspiration from them and take advantage of their experience, their unique knowledge of the sea in order to find solutions together?
Plato said: "There are three kinds of men: the living, the dead, and those who go to the sea. »
Let us not kill this last category, without which I remind you, French Polynesia would never have been discovered... Polynesia, the land of welcome...
Pierre Cosso,
Actor, navigator, free thinker