Mooring technique over the coral:
All boaters sailing in the waters of tuamotu and Gambiers face mooring difficulties. They may find themselves trapped on shore after a change of direction of the swell or wind, corner their anchor or chain in the coral, and end up in stressful maneuvers to raise the anchor, with rolls of twisted bows and stilettos broken or even torn off. Corals, living and fragile structures, are often the first victims of these failed manoeuvres. Isn't a mooring with colorful corals inhabited by fish much better than on a debris background?
It's easy to avoid damage to corals and your boat. 
You can:
Choose a mooring area with good visibility (do not anchor blindly)
Try to find a large sandy area to drop anchor
Wet in shallow water, where - you can see the bottom - usually less corals grow on sandy bottoms, you won't need a long mooring line
Float the chain so that the boat can rotate according to the swell and winds
without getting stuck in coral potatoes
Monitor weather forecasts and move to a secure mooring area before any changes in wind direction.
In case it is impossible to find an area completely devoid of coral heads, there is a technique to be used to avoid the chain's contact with the coral.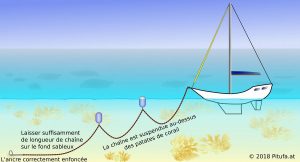 Floating the chain is a simple procedure.
You'll only need:
2 medium-sized buoys (striking, or plastic buoys of pelières farms that can easily be found at Tuamotu stranded on the windy reefs of the atolls... you will also de-pollute the reefs!)
2 muskets suitable for your chain.
Drop anchor in the center of the largest sandy space you'll have found
Let chain run by gently recoiling with the engine
Check the presence of coral potatoes in the vicinity to assess the length of radius sufficient to attach a buoy before the chain touches the coral
Continue to let the line run by standing on the anchor.
If the range is not sufficient a second (or more) buoys can be added and followed by chain.
(Reference: Birgit Hackl, S/Y PITUFA: www.pitufa.at)
Fishing regulations (DRMM recommendations)
Fishing with a net
The general rule is that the net must be no more than 50 m long, and its mesh must be at least 4 cm apart.
There are three exceptions to this rule for fishing:
mullid fry ouma (upe'a ouma allowed),
inaa gobiid fry (upe'a inaa or tava'e),
selar crumenophthalmus and operu decapterus macarellus (upe'a ature or upe'a nave).
In addition, the distance between 2 nets should not be less than 100m and the installation of a net should not exceed 24 hours separated by 24-hour intervals. Sleeping or driftnets should be marked with floats with a brightly coloured square flag and should not interfere with navigation, especially at the pass level. They are not allowed outside the lagoon.
In the season only:
from 5 a.m. to 5 p.m., fishing with nets is reserved for beach sennes including large ature nets (upe'a anave), for the capture of pelagic fish (Ature, Operu, Orare,...).
From 5 p.m. to 5 a.m., net fishing is reserved for small nets of the so-called Parava category that will have to be located by clearly visible landmarks (buoys or other).
Fishermen using other means of capture provided they conform: various lines, harpoon, harpoon, etc.... will be able to carry out their activities at all times without hindering large net fishing.
Underwater fishing
Underwater fishermen (or hunters) are prohibited:
approach within 150 m of a water intake, marine cropping establishments (pearl farm, aquaculture farms) as well as marked nets and fishing gear;
capture marine animals caught in gear or nets laid by other fishermen;
to keep any underwater fishing equipment loaded out of the water,
to use for the exercise of underwater fishing, any equipment autonomous or not allowing a submerged person to breathe without returning to the surface (autonomous scuba, hookah), except for the destruction of the Taramea Acanthaster planci,
the joint use of stand-alone equipment and an underwater rifle with the exception of Lupara used as a squall defence weapon.
Freshwater fishing
It is forbidden to fish freshwater species in all rivers and lakes of the territory with nets, rets (type of nets) or hawks
Fishing methods, materials and tools
It is forbidden:
use a natural or artificial substance that can intoxicate, fall asleep, paralyze or destroy marine animals and freshwater species (hora, hora papua, hutu, bleach, etc.),
to use electrical processes,
use mine bars, pickaxes or any other fishing tools or gear that could disrupt species' habitat (coral destruction),
use explosive (dynamite) and gaseous substances (compressed air) anywhere to frighten, paralyze, destroy or kill marine animals and freshwater species with the exception of explosive-headed bullets used as a defensive weapon  against sharks.
Seasonality of crustacean fishing (RAHUI):
- Lobster cannot be caught from February to April. The rest of the year, they must measure at least 20cm.
- Green crab or "upai" cannot be caught from November to January. The rest of the year, they must measure at least 12cm.
- Sea cicada or "tiane'e" cannot be caught from November to January. The rest of the year, they must be at least 14cm tall.
- The squid or "varo" cannot be caught from November to January. The rest of the year, the squid must be at least 18cm long.
- The burgau or "ma'oa taratoni" and the troca cannot be picked up, except in the context of an operation organized by the supervisory committee of the commune. But the period, the quota, the sizes and the marketing methods are set by the Council of Ministers.
- The benefactor or "pahua" can be fished at any time of the year, but its size must reach at least 12cm.
- The river pole or "nato" cannot be caught from November to February. Outside of this period, the perch can be fished if it measures at least 12cm.
- The "oura pope" can't be fished from November to February. The rest of the year, the kid must be at least 6 cm tall before being caught.
Cetacean Observation and Approach Rules (MATA TOHORA Recommendations)
For a good approach with respectful observation:
Reduce speed to 3 knots within 300 m (which gives time to observe the situation)
Preliminary analysis of the situation (presence of calf? behaviour of animals: movement, rest, games, courtship, breastfeeding ...)
Observation distance: 100 metres WITH or WITHOUT calf; 30 metres for dolphins
Adaptation to behaviour (run parallel to moving animals 100 m with or without calf; stay at least 100 m in case of jump or repeat hitting of the caudal fin)
Position at reef level: if the distance is sufficient (100 m between whale and reef) we must position ourselves on the reef side. Otherwise impossible observation (stay in the 300 m zone).
Never push animals to the bottom of a bay or pass
Stop watching if whales enter or are in the lagoon (if in the lagoon, notify the Environment Directorate or Mata Tohora)
At any time, step back or interrupt the observation if there is a change in behaviour or the presence of a calf that is too young (white or very clear)
Set the engine to a standstill if the animal voluntarily approaches the boat
Never stop your engine even when stopped (stay at a standstill to indicate your location to the animal and remain manoeuvrable)
Approach to 3/4 rear: never front or rear
Follow a parallel trajectory (side by side, do not cut the road, do not overtake, do not stand in the middle of a group of cetaceans)
No sudden change in speed or direction
Stay grouped: each new boat in the area must ensure that it joins the boats already present, grouped and on the same side of the whale (no encirclement)
Limit ingesting observation time
The order of arrival of the boats defines the order of the waterings to limit the number of people in the water at the same time
Impossible launch cases: rough seas, murky water, nervous animals, too young whales (white, light and soft fins)
In the water, stay at 30 m: Calm swim, no jumping, no sudden movement, no shouting
Pooled swimmers moving in the same direction
At the end of observation: Move away at reduced speed (3 knots over 300 metres)
Forbidden observation in bays, passes and lagoons
For professionals: a launch guide is required to accompany customers
Regulations
As a reminder, here are the most important excerpts from the latest regulations (2017/2018) concerning marine mammals and other protected species of Polynesia.
Art. Lp. 2200-1. French Polynesia's environmental code
Subject to the specific provisions of this Code for the protection, conservation and management of spaces and species, and in the absence of contrary regulation, it is strictly prohibited, at any time and in any place, to intentionally disrupt the natural development of wildlife and associated ecosystems.
Intentional disturbance is defined as the actions of a human being in order to obtain, for his own entertainment, a modification of the natural behaviour of a wild species specimen.
In particular, it is prohibited:
- to use something that, by its noise or vibrations, is likely to disturb the calm and tranquillity of wildlife and to provoke their rambling;
- to attract wildlife in any way, including gestures, noises or promises of food, when this practice may be an embarrassment to other users of space or attract predators.
In addition, any action by a human being in the presence of a wild species must adhere to strict principles of safety or caution so as not to expose himself or directly to others at the immediate risk of death or injury to result in mutilation or permanent infirmity.
Art. A. 2213-1-4. French Polynesia's environmental code
Search and approach for observational purposes, or for the shooting or sound of whales and other marine mammals are prohibited to any person, regardless of the mode of transport used in lagoons, bays, passes and within a radius of 1 kilometer centered on the axis of the pass.
Outside the premises set out in the previous paragraph, research and approach for observational purposes, or for the shooting or sound of whales and other marine mammals are subject to authorization for any natural or legal person who proposes to exercise usually or professionally the research and approach activity for observational purposes, or for shooting or sounding whales and other marine mammals.
Art. A. 2213-1-7. French Polynesia's environmental code
I- The pursuit of animals is strictly forbidden. It is strictly forbidden to cut off the animal route. Any boat used for research and approach for observation, or for shooting or sounding whales and other marine mammals must follow a parallel route, in the same direction of movement of the animals.
The minimum safety distance required between the boat and the marine mammal is 100 metres for whales and 30 metres for dolphins and other marine mammals, unless marine mammals voluntarily reduce the distance. In this case, the motorcraft must be brought to a standstill, not shut down, and then the boats must return to a position to maintain the safe distance provided for in this section.
II- The following rules should be observed:
- The approach speed should not exceed 3 knots within a radius of 300 metres.
The vessel must then hoist the floating signs "Romeo-Yankee" in order to signal to all other
"Go low speed when you pass by me";
- Boats must maintain the minimum safe distance provided for in the I of this article
to limit the pressure on animals;
- Any sudden change in direction and engine speed is prohibited;
- The releases are carried out under the conditions of the regulations applicable to
water-hiking activities
- The use of sonars, at frequencies other than those normally used for the
navigation, is strictly prohibited.
If the search and approach for observational purposes, or for the shooting or sound of whales and other marine mammals are done by several boats at the same time, they cannot encircle whales and other marine mammals. They must all stand on the same side.
III- When the search and approach for observation, or for the shooting or sound of whales and other marine mammals is done from an aircraft, the mandatory height between these aircraft and the animals must be greater than 300 metres.
IV- The search and approach for observational purposes, or for the shooting or sound of whales and other marine mammals by swimmers and divers must be done sideways within a minimum and permanent safety distance of 30 meters.