Traffic in the riding of the Autonomous Port of Papeete
Port Vigie Recommendations for Runway Crossings at Faaa Airport in the RIDING of papecETE Autonomous Port (applicable to all vessels with a draft greater than 6 metres)
The following rules should be scrupulously respected in order to allow maritime traffic to be in line with air traffic.
The Port Vigie will link with the Faaa Airport Control Tower for runway axis crossings ("22" for the EST side, and "04" for the WEST side)
The Vigie of the Autonomous Port of Papeete can be reached 24 hours a day by:
- VHF 12 or on BLU 2638 KHz
- By telephone (689) 40.47.48.50 - Hotline (up 689) 40.42.12.12.
By VHF or BLU, it must be contacted in this form: "VIGIE VIGIE VIGIE VIGIE of "Name of your Ship" (3 times).
Or for English speakers: "PAPEETE PORT CONTROL" (3 times) from "Name of your vessel" (3 times)".
IMPORTANT: All boaters must ensure that they have a functional VHF on board, or a GSM phone, in order to contact the Port Vigie before any movement in the Papeete lagoon.
The Vigie is the only one authorized to provide you with the authorization to enter the port, as well as the authorization to cross the runway sroutes of the airport of PAPEETE.
VHF 12 is mandatory throughout the period of its movement in the Port riding.
 Procedure for entering/exiting the port of PAPEETE:
The Vigie must be called at least 10 minutes BEFORE entering the port of PAPEETE (Papeete Pass is open 24 hours a day)
- You have to identify yourself and announce your intentions to move in the port (its final destination).
- The Vigie du Port must be informed before any departure from the marina of Papeete about its intentions of movement.
How to cross the two runway axes:

There are 2 restricted areas on either side of the runway axis of Faaa International Airport. These areas are materialized on most marine maps: NAVIONICS, SHOM, CM93,..., which allows you to visualize your position in relation to the entrance to these areas.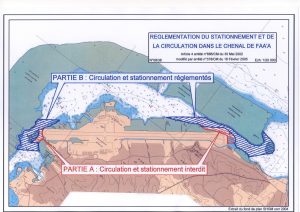 Crossing the runway sroutes is only allowed during the day (from sunrise to sunset).
Permission may be refused even if the light may seem sufficient on the crossing of your first axis of track, because the lookout may feel that the light will not be sufficient for the crossing of the 2nd axis of track.
Also be careful to respect the delimitation of these 2 zones of passage by positioning yourself on the areas waiting for contact with the Port Vigie (marked in yellow on the maps below), and do not cross in any way the areas marked in red without express authorization of the lookout).
1 - Position yourself and identify yourself on channel 12 from the harbour lookout.
2 - Ask for permission to pass the area by specifying your destination (direction of navigation),
3 - The port lookout then makes contact with the control tower in order to obtain from it a clearance to cross the runway axis
4 - Once the authorization given by the lookout you have 5 minutes to cross it.
5 - Stay on standby on VHF 12 until the end of the procedure.

WEST ZONE CROSSING - 04 - (Taina marina)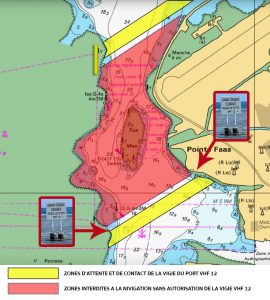 ZONE EST CROSSING - 22 - (Papeete side)