Ongoing public inquiry into MOOREA's 2019 PGEM.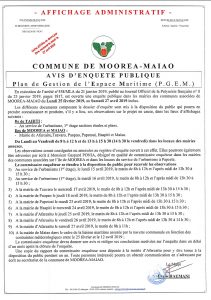 Significant restriction on the number of sailing boats allowed on Moorea Island.
What to remember:
Prohibition of wetting outside the defined areas in the PGEM.
Prohibition of exceeding the quotas allocated on each zone.
Up to 83 boats allowed throughout Moorea.
50% of these moorings on Moorea will be at the bottom of the bay (COOK and OPUNOHU) on funds of 25 to 35m.
Concentration of mooring areas in the north of the island, where the density of sandy bottoms that allow mooring without the risk of damaging wildlife is lowest and where the concentration of homes and tourist activities is the lowest Important.
--48 hours of stay on a berth.
Only 13 sailboats will be allowed on moorea's EST façade, the only one that can reasonably accommodate boaters from Tahiti for a maximum permitted stay of 48 Hours (While Moorea counts on this façade: 50 resident boaters and Tahiti has more than 250 resident boaters)
Knowing that these moorings on the IS façade are naturally and logically already occupied mostly by the boaters of the marina of Vaiare for the weekend because of their proximity.
Quotas of moorings reviewed annually unilaterally by the commission.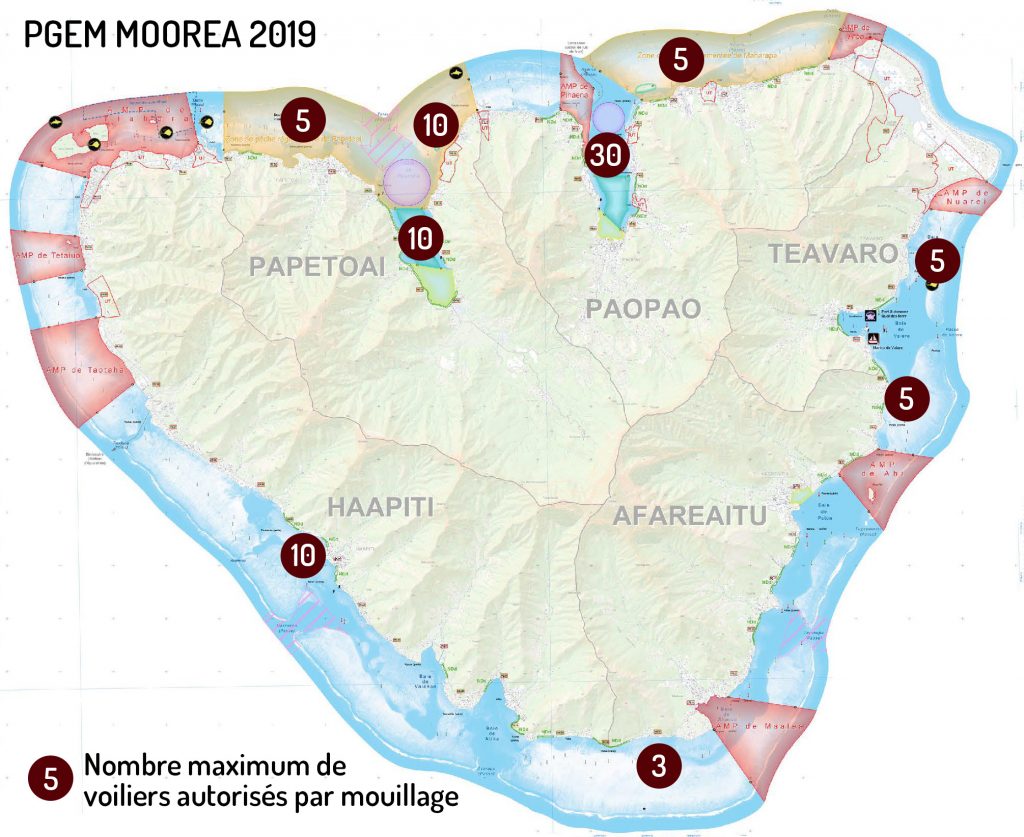 The Investigating Commissioner will be available to the public for comments:
- In Papeete in the department of urban planning (1st floor office 127) on Monday, April 15 and Tuesday, April 16 from 8 a.m. to 12 p.m. and 1:30 p.m. to 3:30 p.m.
- Teavaro Town Hall on April 17 from 8 a.m. to 12 p.m. and 1:30 p.m. to 3:30 p.m.
- PaoPao Town Hall on April 18 from 8 a.m. to 12 p.m. and 1:30 p.m. to 3:30 p.m.
- Papetoai Town Hall on April 23 from 8 a.m. to 12 p.m. and 1:30 p.m. to 3:30 p.m.
- Haapiti Town Hall on April 24 from 8 a.m. to 12 p.m. and 1:30 p.m. to 3:30 p.m.
- Afareitu Town Hall on April 25, 26 and 27 from 8 a.m. to 12 p.m. and 1:30 p.m. to 3:30 p.m.
You can also mail them directly to the investigating commissioner at:
Mr Gaspard PONIA
Commissioner-Investigator PGEM Moorea
Planning department, bat. A1
11 Commander Destremau Street
BP 866 Papeete 98713 Tahiti
Sources: The full text of the MLP Fishing Map Activity Map Map Spaces Plan
In response to this text, the association organized a working meeting and published lists of arguments and proposals that you can use to contribute to the public utility survey:
Take these arguments and participate in the public utility survey!